I concluded my first Corona Chronicle post by wondering when the message regarding public transport usage would change and now it appears that we might have eventually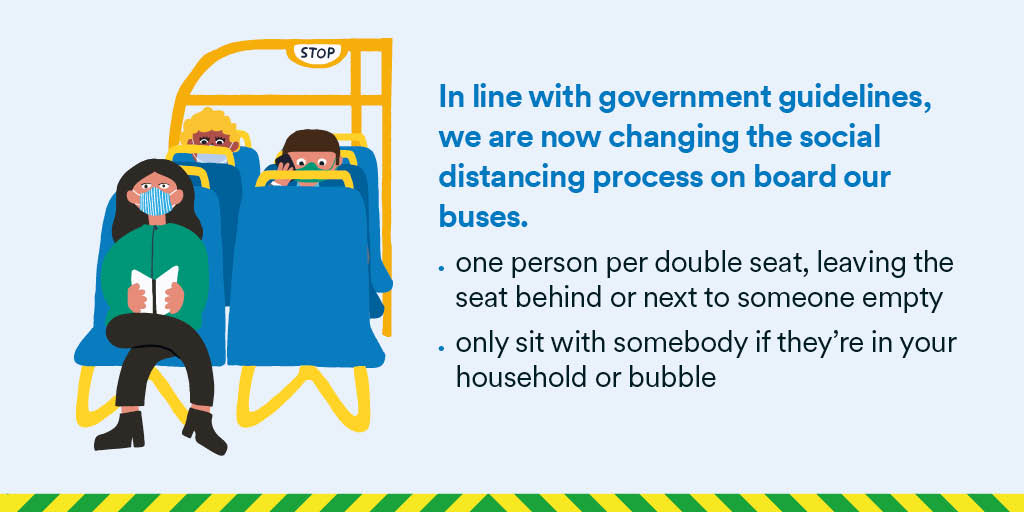 reached that juncture. Major operators are moving from quarter capacity to half capacity on vehicles which will reduce the likelihood of duplicate vehicles being needed and perhaps the need for services running over and above their pre-lockdown levels, as has been happening with many First services locally.
Prepare for the Comeback
Commercially sensitive operators are collectively holding their breath at the moment to see what levels of passenger usage will return. The problem is that this is traditionally a transient time of year for bus usage. Schools are close to finishing for the Summer holidays, Colleges and Universities would normally have finished their terms by now, so there will be no upturn in usage from educational establishments until the autumn. It also appears that tiny numbers of city centre office workers are currently travelling for their traditional nine to five, which remains a concern as it is possible that many of them will never return as their employers recognise the benefits of having staff telecommute, resulting in less expensive office space in premium locations. This hasn't just been an observation of local bus services; peak hour trains on both local and longer routes are also reported to be drastically quieter than normal as "the important people are not travelling" (a phrase used by a railway worker friend).
Beware of the Dragon
All this uncertainty is allowing many storm clouds to gather, most ominously from the Welsh side of the Severn. The Welsh Assembly has made it clear that they place zero value in the commercial expertise which has delivered most parts of the country with an efficient bus network for over 30 years and embarked on a shameless power grab which they seem to regard as a rescue. Experience suggests that this will result in more unproductive projects such as Traws Cambria's free weekend fares whilst robbing urban areas of their frequent services to pay for it all. Managing competition may be a desirable outcome, but without commercial minds responding to passenger demands, growth will not happen and those with a choice will choose alternative modes.
Towns out of bounds
Another opportunistic move by local authorities has seen High Streets in many areas receive badly planned traffic calming and road closures in the name of social distancing. Some highlights of the past few weeks:
Broadmead (Bristol) has seen bus stops put out of use around much of the Horsefair and Penn Street, instead pushing large numbers of people to use one stop on Broad Weir (S12) which is now seeing over 15 different services providing 40 buses per hour on weekdays, with nearer 50 departures an hour at peak times. So much for social distancing there.
Thornbury (South Gloucestershire) lost it's two main town centre bus stops for services towards Bristol and Cribbs Causeway on the High Street on 6th June. The replacement stop is on the opposite side of the road and TravelWest suggests this means buses going round in circles to find somewhere to stop. The only review which appears to have been carried out at the end of June was that additional disabled parking was provided in the High Street.
Keynsham (Bath & North East Somerset) also saw the closure of the High Street between 0900 and 1700 on Mon-Sat from 13th July. TravelWest decided that bus services provided by First were important enough for diversion notices to be published (including a fairly terrible loop for the 17 to endure along residential roads clogged with parked cars), meanwhile bus services A4, 18, 636, 663, 664, 665 and 668 were not important enough to warrant information being published about them. Clearly MetroMayor Tim Bowles' impression that First are the only bus company are being reinforced by WECA's TravelWest information source.
Addendum: since posting about this on Twitter, TravelWest have now added the A4, but none of the other services.

Weston-super-Mare (North Somerset) has the most disruptive closure of all. From 13th July, the previously bus only Regent Street, home to four of the busiest bus stops in town being closed to all traffic. This is a measure which North Somerset were intending to implement as part of town centre plans, so don't expect it to ever be rescinded. As a result, all town bus services (1, 3, 5, 7) along with 20 (Burnham) and 134 (Chew Valley) are displaced to less convenient locations around the town. First were clearly informed and involved in revisions to their services. North Somerset Council didn't bother informing us that the busiest stop on service 134 would no longer be accessible. This situation demonstrates the contempt with which North Somerset Council is treating any bus operator bar First, yet their elected members will be quick to complain when the dominant operator fails to provide every facility they demand. Perhaps an understanding is needed amongst councillors that the reason there are so few bus operators left in North Somerset is partially down to the way in which their staff treat them.


The Weston "social distancing" closure of Regent Street couldn't be more lacklustre. There appear to be four signs (as seen being ignored by the Renault in the photo). No barriers whatsoever to prevent private traffic from ignoring the signage. Notices on bus stops provide sparse information without maps.
Don't think, just act!
In all three of these towns, buses have been neglected as these ham-fisted measures are implemented under the dubious banner of social distancing. I doubt that the closures in Thornbury or Weston will ever be revoked and buses will be left performing loops of housing estates to access the inconvenient bus stops we're still allowed to use. As if attracting passengers back to bus services wasn't difficult enough after four months of official messages telling people to avoid public transport, these measures make the job a whole lot tougher.
The problem is that the needs of bus passengers are being marginalised and their journeys treated as unimportant. Our passengers are bottom of the pile when it comes to consideration and the measures in Thornbury, Keynsham and Weston demonstrate this all too painfully. Convenience is a key selling point of bus services, and forcing our passengers in to lengthy walks to and from the shops is not going to help encourage them to get back on board. By all means, rethink how town centre stops work, but don't put them out of economical reach for somebody with two heavy bags of shopping.
I have grave concerns that the bus industry is deliberately being brought to the brink of collapse so that "emergency" regulations can be brought in, which will have huge unintended consequences (likely to be seen as collateral damage, such as with the concessionary fares scheme). The speed and incompetence with which these social distancing measures are being handled, along with the total lack of communication (let alone consultation) with bus service operators is seriously concerning. There is an air of opportunism to subvert normal process currently wafting from the public sector, as indicated by the knee-jerk responses to urban planning referred to above. Imagine this incompetence and opportunism on the scale of national policy where a shift away from our current demand led bus networks to the dreamworld requirements of metropolitan mayors will lead to passenger demand crumbling down to negligible levels. I'm sure some civil servants will end up with impressive CVs to take to consultancies, but the country's bus services are in danger of being damaged beyond repair.
I really hope i'm wrong.